Roll over image to zoom in
Description
Cook to IMPRESS, not stress! Delicious meals cooked to perfection every time
Using this innovative new meat thermometer you can monitor the temperature of your cooking from anywhere! It's completely wire free, making it perfect for indoor & outdoor cooking. You can monitor your cooking temperature using the app Grill ProbeE, which is available on iOS and Android devices. The device is equipped with dual temperature sensors, allowing you to consistently get a perfect cook every time. 
The Perfect Temperature
Walks you through every step of the cooking process to guarantee perfect and consistent results. You can also create custom alerts based on time and temperature. 

Smart Timer Algorithm
The device can calculate how long to cook and rest your food to help plan your meal and manage your time. 
Smart Phone App
Monitor your meal over Bluetooth to any iOS and Android device. Scroll down for the QR code to get the app today.

Long Range
 Bluetooth range to mobile device unobstructed is up to 100 feet (30 m). Inside a closed Oven/Smoker/BBQ: up to 50 feet (15m)
2 Year Warranty
Buy With Complete Confidence. If the probe has any problems on quality, you can send it back to get a new one for two years.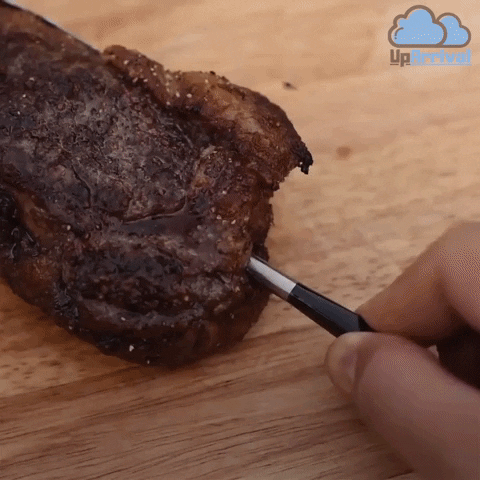 Add To Cart and Save an Extra 5% On All Order In October
Payment & Security
Your payment information is processed securely. We do not store credit card details nor have access to your credit card information.