Roll over image to zoom in
Description
POWER BEND WILL SUPPORT YOU EVERY STEP OF THE WAY TO TAKE BACK CONTROL!
The new-and-improved Power Bend Shock Active Knee Support provides secure support for mild instability and relieves knee pain and swelling.
Premium Quality: Comfortable, lightweight, breathable knit will not retain heat for high wearing comfort, flexibility, and ultra-durability.
Silicone Pad: leaves the kneecap (patella) pressure-free and provides intermittent compression aiding in the resorption of swelling and edema, and improving blood circulation and recovery.
Stabilizing Effect: Stabilizes muscles and improves joint stability and performance, reduces stress, a risk of injury and recovery time
We combined the newest technology with highest quality materials to produce the ultimate Shock Active Gel Padded Knee Compression Sleeve for men and women. Created at the highest standards in the industry, the Knee Sleeve is designed to increase circulation, thus aiding in the resorption of swelling and edema and speeding up the recovery process. The fit also helps the joint to regain stability as the injury begins to heal over time.

3D KNITTING TECHNOLOGY
Newest 3D knitting technology with covered knee avoids window edema, yet keeps pressure off the knee cap. Ultra-Lightweight, the sleeve offers a precise fit for all-day comfort, flexibility, breathability and ultra-durability.
REDUCE STRESS AND INJURY RISK
The anatomically contoured pad surrounds the kneecap, dispersing pressure. When the knee moves, the pad and the knitted fabric massage the connective tissue and the muscles. Two pressure points and lateral wings deliver targeted stimuli, triggering positive sensory motor feedback. The stabilizing muscles are activated to improve joint stability reducing stress and risk of injury.
INCORPORATED SHOCK ACTIVE SILICONE PAD
The incorporated Silicone Pad leaves the knee cap (patella) pressure free and provides intermittent compression to the soft tissue of the joint leading to increased circulation, thus aiding in the resorption of swelling and edema.
SUPPORT TO PERFORM EXERCISES
Provides support to perform rehabilitation exercises. Can be used to help with treating knee strains or sprains, knee instability, post arthroscopy, pre and post-operative knee inflammation, arthritis, osteoarthritis, degenerative joint disease (DJD), adolescent knee pain, recurrent knee pain.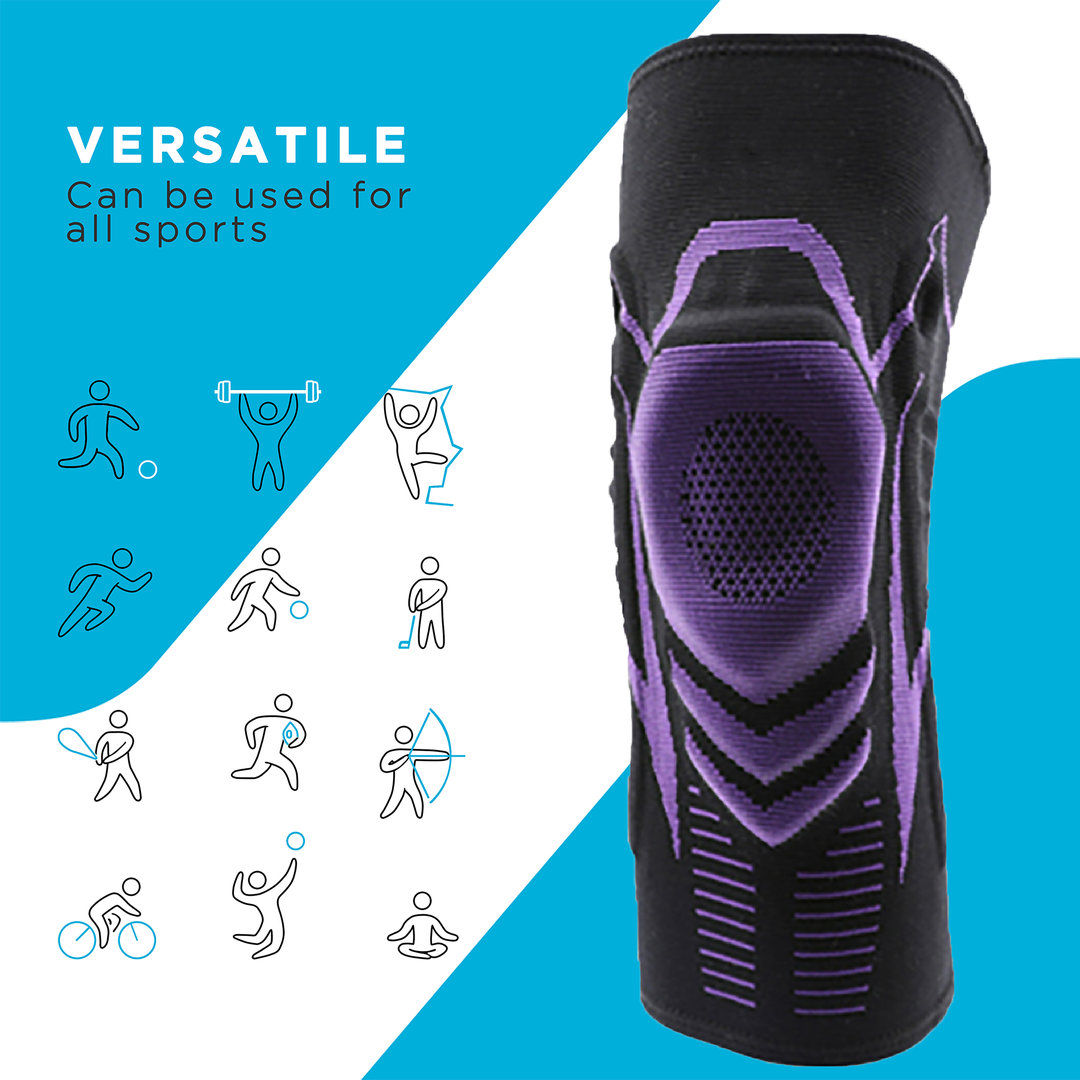 WIDE RANGE OF USES
Helps improve performance during sports or everyday activities supporting the movement of the knee. Great for running, basketball, soccer, football, golf, cycling, tennis, hiking, volleyball, skiing, weight lifting, biking and much more.
TREATMENT OF:
✅ Strains
✅Tendinitis
✅Swelling
✅Pain
✅Jumpers knee
✅Runner's knee
✅Feelings of instability
✅Lateral meniscus tear
✅Arthritis
Select the size of the item. You can find out more about the sizes:

SHIPPING & HANDLING 
We provide FREE WORLDWIDE SHIPPING.

Please allow 3-5 days for handling due to high demand.

Due to extremely high demand, orders take may up to 10-15 days (United States), 15-20 days (Rest Of The World) to ship and arrive.

Please note that the worldwide quarantines caused by COVID-19 are causing shipping delays, and we are doing our best to get orders to you as fast as possible.
OUR GUARANTEE
Satisfaction Guarantee, Easy refunds, and 30 days money back guarantee!

At Power Bend our NO. 1 priority is your satisfaction and happiness. We believe our compression are truly innovative and we are 100% confident of its quality. We understand that buying things online can be scary with companies not staying true to their customers. If you have a problem, unhappy with your purchase, want a different size or color or want a refund just send us a message and will do it for you!

Just reach out to our Power Bend team at support@power-bend.com and will make the magic happen! 
Payment & Security
Your payment information is processed securely. We do not store credit card details nor have access to your credit card information.